When viewing an image in the RocketReviews.com Photo Album, you may see a link under "What You Can Do" for ordering a t-shirt, printed photo, poster, genuine US postage stamp, or other product featuring the image.  The currently link appears only under images you have uploaded to RocketReviews.com and under photos that I contributed (such as the photos I've taken at ROCK, NEFAR, and TTRA launches).
The link only appears under images which are large enough to print well on most of the products. Generally, an image must be more than 1000 pixels wide or 1000 pixels tall for it to print well on a t-shirt.  For this reason, the site includes the link to order products only if the image is more than 1000 pixels wide or tall.
Later, an option will be added to allow you to specify if you'd like others to be able to use your images on products.
As an example, I captured the following photograph of a Mars Lander lift-off at a ROCK launch last year.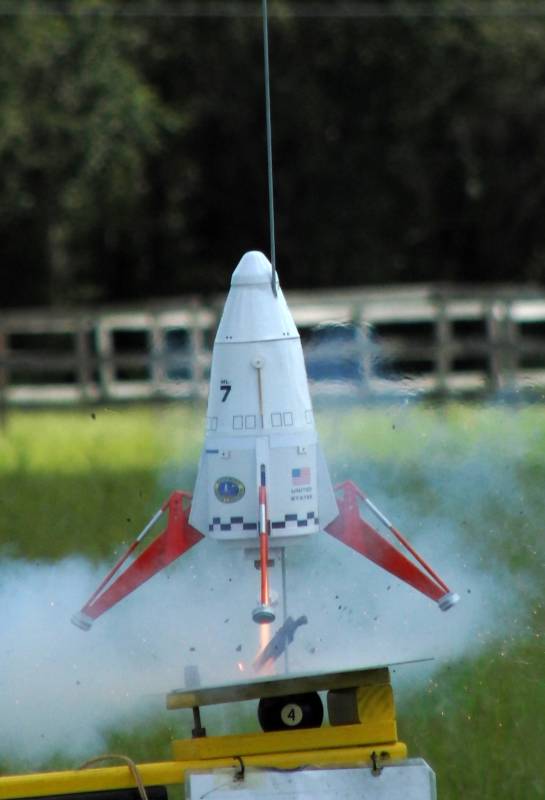 When you View the Photo in the Photo Album, you'll see a link under it that reads:
Click on the link to visit Zazzle where you will be able to order a t-shirt or other product featuring the image.

At Zazzle, you can click on a product type to select it. Then you'll be given options including the style and size of the product. After selecting your options you can add the product to Zazzle's shopping cart then checkout to purchase it.
The t-shirts offered through Zazzle include ones with an image on the back and ones with the image on the front. Shirts with an image on the back feature the RocketReviews.com logo and "QR Code" on the front. You can customize your shirt before ordering it to remove or replace the RocketReviews.com logo if you wish.
One of the products you can order is a genuine US postage stap featuring the image. You can select the size and demonination of the stamps.